Dublin artist Holly McGlynn's unique brand of photography has already left an indelible mark on the London photography scene.
The photography industry is constantly changing and evolving. The fast pace, combined with the fact that it is overwhelmingly composed of individual freelance professionals, makes it a very dynamic and exciting marketplace in which to operate.
London-based Holly McGlynn is best known for her work as a fashion, beauty and portrait photographer. Since her first foray into the industry, she has found a way to stand out from the crowd by working hard to build her own style and portfolio.
McGlynn's journey began with a solid foundation of education. "I came to photography after university while I was living abroad," she explains. "I did History of Art and French at Trinity, then an MA in PR at DIT before moving to Berlin, where I discovered photography. Lots of people around me, justifiably, thought it was just a phase, but I knew immediately that I wanted to make photography my life's work."
The diversity and dynamism of London held a special allure for the emerging photographer from the outset and McGlynn made the move when the city's art scene and unrelenting creative energy became too hard to resist. "I always wanted to move to a global hub like London or New York," she says. "The sector is much bigger here and it feels like there's room for more photographers. It's expensive, busy, relentless, and probably not for everyone, but I love it."
There is more interest than ever in the medium of photography. Smartphone technology has disrupted how people engage with photography. We've never had more access to visual stimulation and social media channels provide the perfect platform for international brands to target customers.
"It's been interesting to watch the shift of resources, focus and budget into social media compared to print campaigns," states McGlynn. "I joined the industry as brands were first exploring social media and if usage was 'just for social media' then it wouldn't be a big production. But, that's changed massively now, of course."
She adds: "I really like how fast-paced and continually evolving the industry is. I love producing a lot of images, meeting deadlines and working in teams. I've always been obsessed with style and I think fashion photography, at its best, is fine art. The element of storytelling and escapism within fashion photography is what excites me most."
Unconscious bias

The talented photographer is steadfast in her belief that the photography industry has struggled with misogyny in much the same way as its Hollywood counterpart. The stats of women in photography are shocking: although 80% of photography graduates are female, they only make up 15% of professional photographers working within the field; eight out of nine photography competition winners are male; and approximately 90% of agency-represented photographers are male. Furthermore, at last year's Irish Magazine Awards, six men were shortlisted for Photographer of the Year.
There has been a hideous, but necessary, exposure of abuse within both fashion and fashion photography. A number of world-famous photographers have recently been exposed as part of the #MeToo movement. However, there is a cohort of like-minded professionals continuing to push the envelope in terms of equality and the fair treatment of women.
McGlynn states: "Is the male domination within the industry because women aren't good enough to be shortlisted, or because men are being commissioned much more and therefore eligible for nomination? There's a huge unconscious bias taking place and I want to make as much noise as possible about it.
"I think the sector needs to address this unconscious bias for anything to change. Organisations really need to examine their commissioning practices and ask themselves how many of their campaigns or editorials are being photographed only by men and what can be done to redress the balance.
"It will require changing working methods, it may require specifically seeking out female talent and it will require taking a chance on someone you haven't worked with before, but men are given these chances so much more readily than women. It astonishes me how many brands and magazines have a target audience of women, use women as models, but don't consider women to take the photos."
A feminist gaze
McGlynn considers her style both feminine and feminist and the Dubliner is committed to promoting diversity within the fashion and beauty industries through the models and creative teams she chooses to work with. Her bold, colourful imagery tells a powerful story: that any female photographer can succeed by being true to the core values of respect and integrity.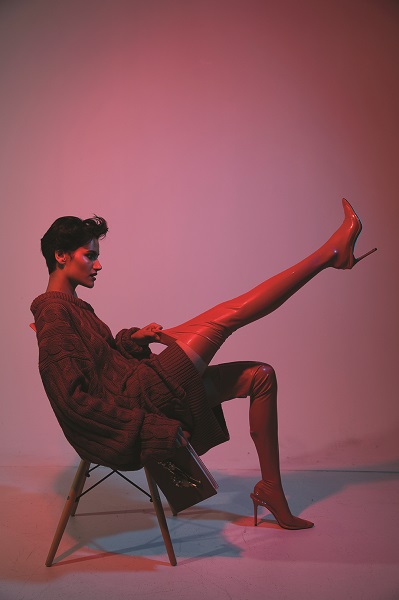 "I think my work is feminist because I am a feminist and the photos are taken through that gaze," she says. "I won't photograph gratuitous nudity and I question the motivation behind sexualising a model. I don't objectify models and I always ensure models are age-appropriate. Furthermore, I don't slim models down in the retouching process and I never make alterations to a model's features."
It can be challenging for aspiring shutterbugs to get a break, especially within the fiercely competitive UK market. McGlynn's advice to any would-be photographer is always the same: be absolutely relentless. "There's a lot of rejection in the industry, but you can't let it eat away at you, as it's par for the course," she says. "My first big break in fashion photography came after being universally ignored by every brand and magazine I contacted for two years. Then, out of the blue, a national title I'd been emailing consistently commissioned me and that suddenly opened so many doors."
The importance of a good first impression is vital, however, and McGlynn believes a portfolio should portray a photographer's unique vision; a cohesive body of work with enough scope to provide a solid idea of the photographer's taste and style. "Every spare moment you should try to organise test shoots to put together a portfolio of work," she states. "Consider your audience and always play to your strengths. You're only ever a phone call away from someone who can commission you."
Lack of clarity
With the possibility of a no-deal Brexit looking evermore likely, McGlynn understands that uncertainty and anxiety has extended to every corner of the fashion industry, including photography.
"The entire sector is scrambling in the lack of clarity," she says. "So many brands rely on imported materials and international talent. The Brexit gridlock means no one feels capable or empowered to make decisions, to forecast or plan for the short to medium term. This all has a knock-on effect on shoot budgets and how much content is planned. Lots of UK-based brands are putting creative on hold until a way forward becomes clear. Without a doubt, I'm developing my international client base as we speak. Hope springs eternal for a second referendum!"

McGlynn has succeeded in creating a clear genre and style that gives her a competitive edge within a crowded sector. And the future looks bright for the determined entrepreneur. "I've just signed with an agent, so I'm thrilled about taking my career to the next level," she enthuses. "I want to be shooting for British Vogue and I'm so excited about the magazine's new direction under Edward Enninful's editorship."
She concludes: "My goal is to see the images I've shot for global brands on the sides of buses and on massive digital billboards in Times Square. It's ambitious, but so am I, and I'm prepared to put the necessary work in. So let's see."