The Irish Spirits Association (ISA) has launched a strategy for Irish gin, with an aim to promote the worldwide growth of Irish gin over the next five years. According to the association, Irish gin producers want to treble sales by 2022, with an aim to sell 5 million bottles or 400,000 9-litre cases around the world.
In 2017, exports of Irish gin more than trebled and 130,000 cases of Irish gin were sold around the world. In response to this growth, the ISA created an Irish Gin Working Group to create this strategy for further growth. The new strategy identifies the main target markets for Irish gin. While Ireland will remain the most important market, Irish gin producers have identified the UK, Spain, Germany, the USA and Canada as priority export markets.
The strategy also sets out four key goals and a number of actions to deliver on the vision and growth targets for Irish gin. Firstly, the industry wants to develop world-leading standards for Irish gin. This involves creating an Irish Gin Standard for quality and authenticity that will be enforced on a national and international level. The ISA will also work with producers to develop and promote a recognised gold standard logo for Irish distilled gin.
Secondly, producers will promote Irish gin worldwide, starting with the five key target markets. This involves working with state organisations to promote Irish gin in trade missions, promotional campaigns, trade fairs and events in these markets. Recently the ISA took part in a Government-led trade mission to Canada where it promoted Irish gin.
Third, the industry aims to help sustain a vibrant home market for gin. As part of this, it will work to avoid over-regulation, with gin producers identifying the labelling proposals in the Public Health (Alcohol) Bill as a key area of concern.
Finally, the industry will support the viability of Irish gin producers. This involves working with state agencies to support the growth of these companies as well as development into new areas such as, the creation of visitor centres.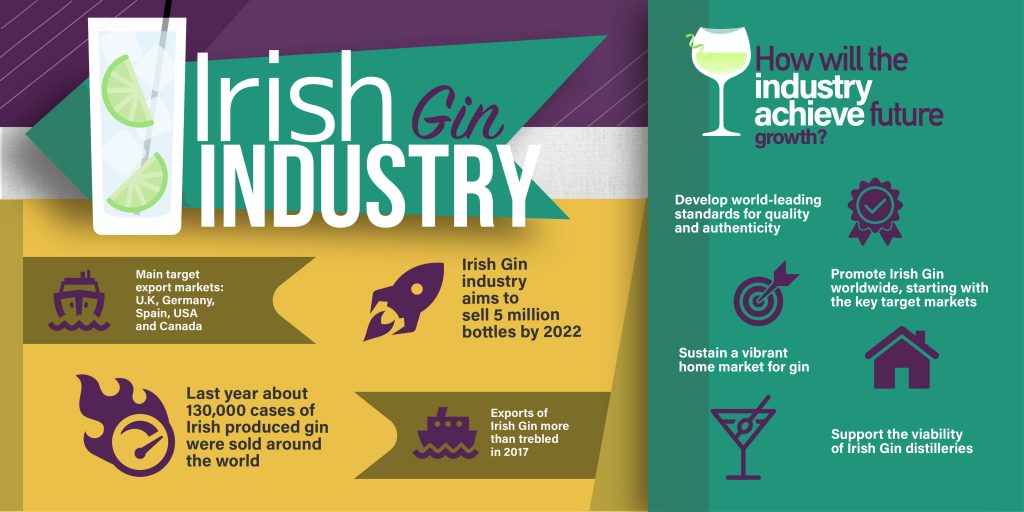 Commenting on the growth plans for the Irish gin industry, Pat Rigney, chair of the Irish gin working group in the Irish Spirits Association and founder of The Shed Distillery in Co. Leitrim said: "Export-growth is vital, and we have identified five priority international markets that we wish to target for growth with the support of Government and statutory partners. Export-growth will support job creation through Ireland and help deliver on the Government's FoodWise 2025 targets.
"But we are very concerned about some of the unintended negative implications of the Public Health (Alcohol) Bill. We are calling for reasonable amendments to the Bill, to ensure that Irish Gin bottle do not have to carry an extremist health warning taking up one third of the label on what are normally the most attractively-designed spirits bottles. We also believe that the labelling requirements in the Bill could deter imports of gin, hamper innovation and growth among Irish gin producers and create a situation in which there is regulatory misalignment between the North and South."
Pictured above: Minister of State for Food, Forestry and Horticulture Andrew Doyle with Pat Rigney, chair of the Irish gin working group in the Irish Spirits Association and founder of The Shed Distillery in Co. Leitrim, and Patricia Callan Director of Alcohol Beverage Federation of Ireland
Image by: Julien Behal Photography