Ricoh Ireland has announced the findings of its 2017 Workstyle Innovation Survey, revealing that only 37 per cent of workers have the authorisation and access tools to work remotely.
The research, which was carried out in association with TechPro magazine in November 2017 and involved 175 IT decision-makers from private and public sector organisations across Ireland, highlights a major issue for Irish businesses. Not only are they potentially losing out on bringing in the best talent but they are also failing to empower their current employees.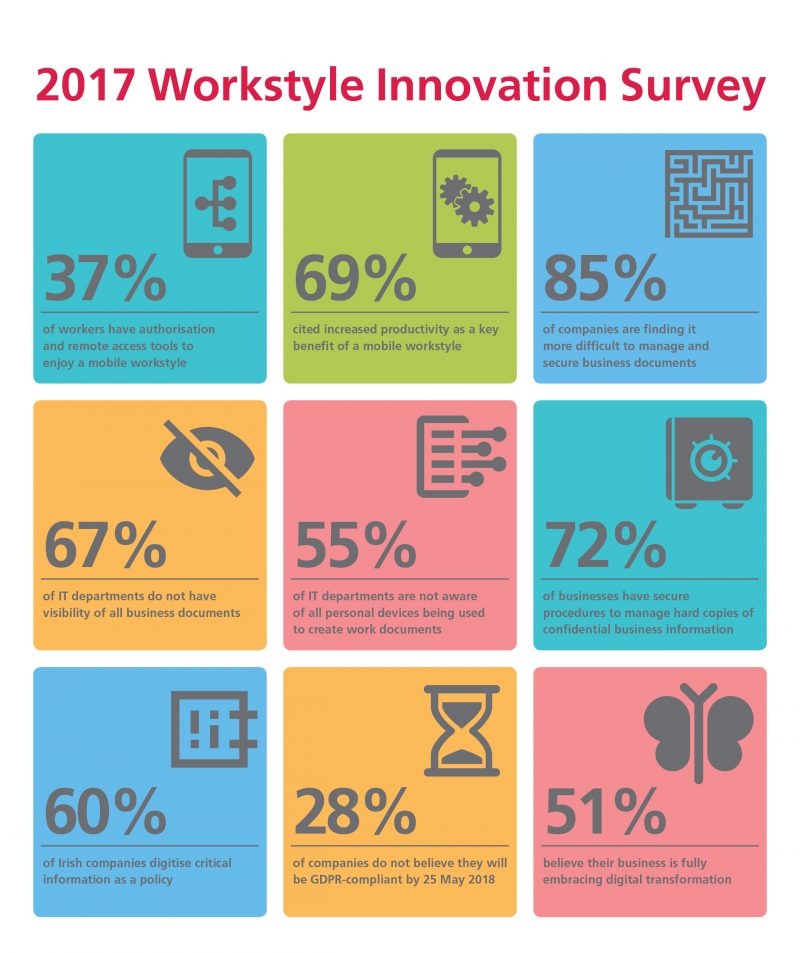 54 per cent of respondents cited technology issues as the main barrier to workstyle innovation. The other two most quoted obstacles were a rigid culture at 49 per cent and the unwillingness of senior management to embrace it at 43 per cent. Only 51 per cent believe their business is fully embracing digital transformation.
85 per cent of organisations claimed they are finding it increasingly difficult to manage and secure business documents. Over two thirds of IT departments do not have visibility of all business documents and more 55 per cent are not aware of all personal devices being used to create work documents.
These results raise serious concerns regarding the monitoring and management of business-related documents, as well as the devices that people use for work. This is one area that will be very important for companies next year with the implementation of the General Data Protection Regulation (GDPR) on May 25, 2018.
While almost three quarters of businesses claim to be compliant already or making progress towards compliance, 28 per cent of companies do not believe they will be GDPR-compliant by the date the legislation is due to come into force. In addition, 40 per cent of companies have not made the digitisation of all critical information policy and over a quarter of organisations do not have secure procedures to manage hard copies of confidential business information.
Commenting on the findings, Chas Moloney, Director, Ricoh Ireland and UK, said: "Companies in Ireland do need to address and embrace digital change in order to remain competitive and agile, but they also need to ensure that critical information and business documents are processed, archived and stored correctly. If they fail to do this, they could be opening themselves up to serious financial and reputational risk."
Pictured above: Chas Moloney, Director, Ricoh Ireland and UK